Bébé curseur Chameleon Chipo - du coeur de hêtre
1151 [gm_product_gtin]
ride on toys. You are never to young for cool design.
Rosemeyers ride on toys - for cool kids and their design loving families
The funny ride on toys conquer the hearts of children with lightning speed. These dearest friends in snazzy designs provide impetus for motor skills, agility, balance and coordination. The ride on bunny made of solid wood brings maximum driving pleasure and hops happily with cozy bunny ears over the floor. The colorful ride on crocodile is a courageous playmate and is afraid of nothing. The spherical casters are movable through 360 ° and making the ride on extremely maneuverable. The removable cover is machine washable. Rosemeyers ride on toys are available for purchase in heartwood beech or oak. Both types of wood have excellent properties - durable, stable value and easy care. Each ride on toy convinces with simple decency and restrained color scheme to the very delight of design affine parents. All wooden products met the highest ecological standards. The wooden parts are connected to traditional wedge technique without metal fittings. The wooden surfaces are sealed with a linseed oil mix, that protects and enhances the natural texture. In 2014 we were rewarded with the GREEN PRODUCT AWARD for the ride on toys collection.
Maximum driving pleasure due to maximum flexibility
This keeps the littles fit and happy. And though they are real racer they are calm and decelerating. The natural color of the wood, the soft colors of the covers and not least the beautiful haptic do exactly this effect. Nothing honks, sings or flashs.
A blessing – not only for the little ones.
The ride on`s consist of three components: the timber body, the seat foam and the cotton cover. If really once happened an accident, all parts could be individually replaced or repaired. Of course, all the ingredients were put through its paces. The plushes are woven by a German manufacturer, we only process regional wood and the oeko-tex-certificated seat foam is also produced by a regional partner.
The high quality of the best materials guarantees fun for several generations.
We recommend this toy for children up from two years under the supervision of an adult.
Babyrutscher Chamäleon Chipo aus Kernbuche und kba Bioplüsch. Maße: 66 x 27 x 41 cm
215,00 €
[gm_product_shipping_info][gm_product_tax_info]
[gm_product_delivery_time] [gm_extra_costs_non_eu]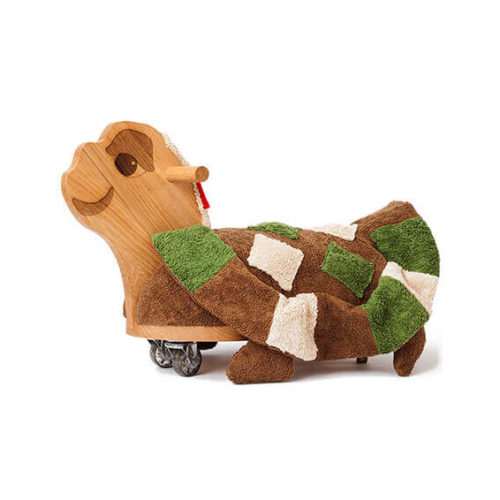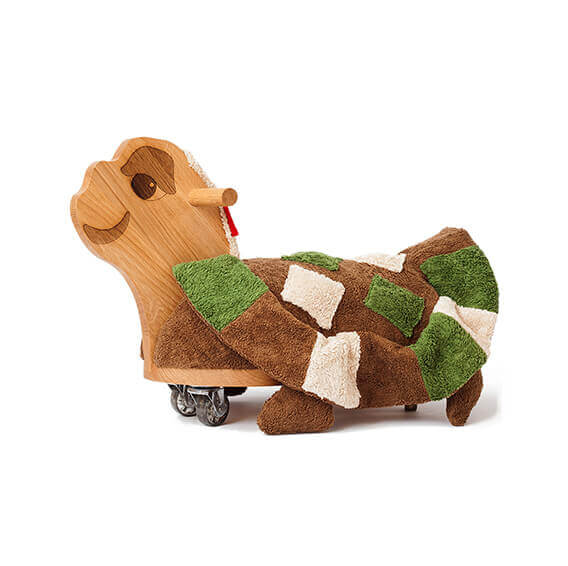 [vc_row][vc_column width="1/1″]

"Willst du dich mit mir verstecken? Dann komm und lass uns die Welt endecken!"
aus massivem schön gemasertem Kernbuchen-Holz
langlebig, reparabel und pflegeleicht
Maße: 66 x 27 x 41 cm; Sitzhöhe 23 cm
Holz ist mittels alter Keiltechnik ohne Schrauben verbunden
Baumwollplüsch in Deutschland aus kba-zertifizierten Garnen gewebt
mit 360° drehbaren Rollen für den ultimativen Fahrspaß
Babyrutscher Chipo wird Ihnen fertig montiert nach Hause geliefert
hergestellt in Deutschland
Gewinner des Green Product Award 2014
[/vc_column][/vc_row]