Dear customers, dear readers,
with much joy and commitment we develop together with you customized products for you or your company, for an event of your choice, for your business or products that can be sold under your label. Whatever you envision, don`t hesitate to contact us.
If next to a great design and an unconventional idea an eco-social production lies at your heart, then we should get to know us anyway.
Some exciting projects we have already implemented jointly in cooperation with large and small companies. Each project in itself was exciting and great due to the different requirements. Here are a few examples:
advent wreaths of diversity of regional woods
christmas calendars
mini apple twigs in matching cubes
special editions of wooden building blocks
figures for Systemic Constellations
threading games for therapeutic purposes
Let us implement your ideas together in a very sustainable way.
Sometimes such synergies bring out funny queries? An elderly customer asked for a "Senior crocodile" to do a race through the hall with his grandson. We follow up on it. Give us a call or send us an email. We take the time such a project really needs.
SELECTED COSTUMER PROJECTS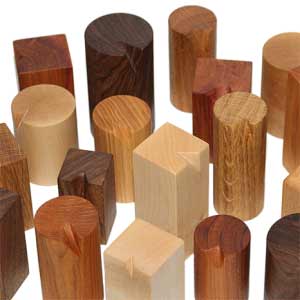 FIGURES FOR SYSTEMIC CONSTELLATIONS
You should have as little own "character". The notches showing the direction of view, we have arbitrarily set to emphasize the impression of the unique.
THE VERY SPECIAL GREETING TO ALL APPLE FANS
Small cubes of apple wood as a mini-vase for a small branch – no wood is as colorful and individual.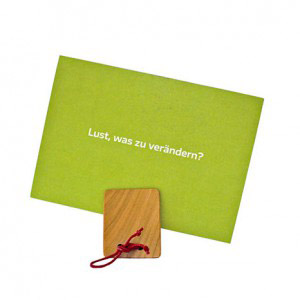 CHERRY WOOD TIED WITH A VEGETABLE TANNED LEATHER STRAP
A wonderful alternative to conventional terminals for price tags and labels and a real eye-catcher for shop windows – guaranteed free of plastic and metal.