candle holder set DARK AND WHITE
6912 [gm_product_gtin]
Noble wooden candle holders for creative staged interior worlds
candle holders - Pure design, impressive woods and guaranteed to be unique
No living accessory is so explicitly for relaxation and well-being such as candle holders. In the glow of a warm light we can leave the daily routine behind us. A cold autumn evening, a rustling bubble bath and a couple of candles - the perfect way to relax after a long day. Many of the best moments in our lives are illuminated by candlelight: marriage proposals, baptisms, birthdays. And what would be the major holidays without candlelight in great candle holders, those are real eye catcher?
Modern and cozy, colorful but never bold, extraordinary and yet homey
Tinged with red and a slim silhouette the candle holder "Sugar Plum" of oiled plum wood charmes and conjures up a great atmosphere in a feminine design style. The beautiful candle holders set "Dark & White" in chocolate-style impresses with sophisticated look and charming touch. The white ceramic spouts accentuate the light and dark wood tone with subtle sophistication. Classic elegance bring the maple candle holders "White Nights" to your table. The perfect form fits into any interior. And the colorful candle holder quartet "Miss Maple and friends"candle holders set Ms MAPLE and FRIENDS proves from the finest local wood, which produces extraordinary colors of nature. Let yourself be inspired by Rosemeyers unconventional home accessories.
Rosemeyers candle holders impress with the beauty of their wood – from apple to plum. These familiar exotics do not need bells and whistles. Pure designs let come out the incredible grain of the wood and the flattering candlelight does the rest. Our woods are exclusively from our region. The special attraction makes the huge color spectrum of these kinds of wood. Very specifically: the apple wood surprises with the wildest grains. For no other candle holders the term "unique" pertain that much.
Like all our items the candle holders are sealed with a linseed oil mix. That cares and protects and cheers the natural color of wood. The noble white ceramic spouts and natural warm wood interact in a very classy manner. We have designed the spouts for all standard taper candles with a diameter of 18-22 mm.
They are a perfect complement for the trendy Scandinavian lifestyle. But also in combination with the industrial look Rosemeyers candle holders make a good impression.
candle holder set made of light maple and dark steamed oak
ᴓ 2.76 inch high 1.97 inch (7 cm x 5 cm)
two white ceramic spouts
suitable for commercial candles 0.7 to 0.75 inch (1.8 to 2.0 cm)
wooden surface treated with a linseed oil mix
designed and manufactured in Germany
26.00 £
[gm_product_shipping_info][gm_product_tax_info]
[gm_product_delivery_time] [gm_extra_costs_non_eu]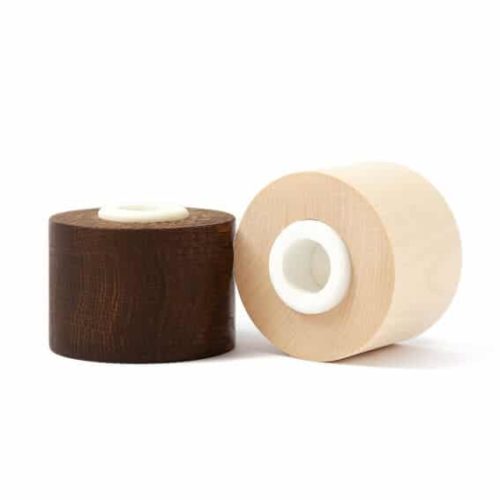 candle holder set DARK AND WHITE




The darkest and the lightest wood in a beautiful duet.




The candle holder set bring the trendy issue "Dark & White" in your home or at your table. The two white ceramic spouts add the final touch to the great lumbers. Equipped with opposite colored candles you can enhance the light-dark effect.




Do you like it a little bit more colored? Then you might like the wooden candle holders Miss MAPLE AND FRIENDS. Do you like it even larger? Then you should visit the large candle holders ASHES to ASHES".