Design key rack oak & maple
6921
high quality processed design key rack oak
solid oak with a delicate strip of light maple
Size 14,96 x 14,96 inch / thickness 1,57 inch / weight approx. 9,92 lbs
including two matching key rings (sticks) made of dark nut
including invisible wall mounting
designed and manufactured in Germany
Delivery Time: 1 - 2 working days
For deliveries to non-EU countries, additional duties, taxes and fees may apply.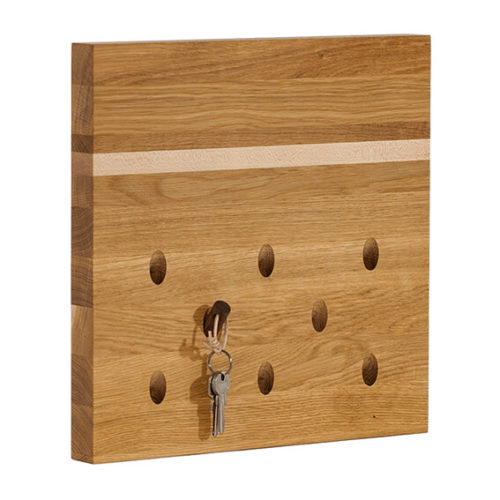 Design key rack oak & maple




Our smart design key rack oak & maple is an ideal organizer and the perfect place for your keys and a wonderful home accessory. High-quality and refined key racks make a first statement in your home at the entrance. Stylish thanks to the minimalist shape in very fine wood, it was carefully reduced to the essentials. The focus is on the beauty of the material and the straightforward implementation of functionality.




Special features of the design key rack oak & maple




Trotz ihrer massiven Erscheinung vermitteln Rosemeyers Design Schlüsselboards den Eindruck des Schwebens und der Leichtigkeit. Sie sind mit acht Bohrungen zum Einstecken Ihrer Schlüssel versehen. Zwei Despite their massive appearance, Rosemeyer's design keyboards give the impression of floating and lightness. They are provided with eight holes for inserting your keys. Two key sticks made of dark walnut with light, vegetable-tanned leather straps for fastening the keys are included. All key racks are sealed with a linseed oil mix, which fires up the natural grain of the wood and makes the boards even more impressive. The suspension of the design key board is behind the key box and gives the impression that this solid wood is floating on the wall.




Would you like a more extravagant design key rack in your hall? Then take a look at our design key racks maple & plum or all of our other design key boards.