Design key board made of maple and plum
6916
solid maple with a delicate stripe of red shimmering plum
Size 14,96 x 14,96 inch / thickness 1,57 inch thick / weight approx.9,92 lb
including two matching key sticks made of dark walnut
including invisible wall mounting
designed and manufactured in Germany
Delivery Time: 1 - 2 working days
For deliveries to non-EU countries, additional duties, taxes and fees may apply.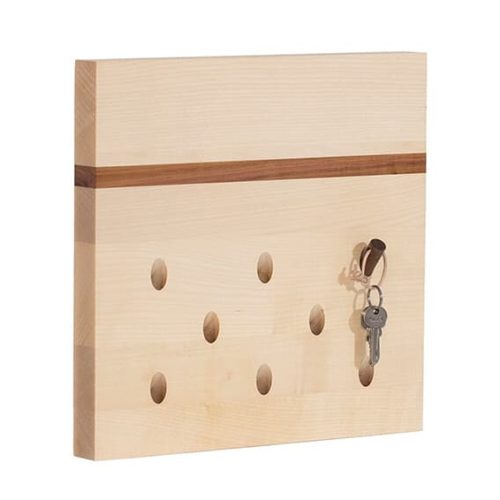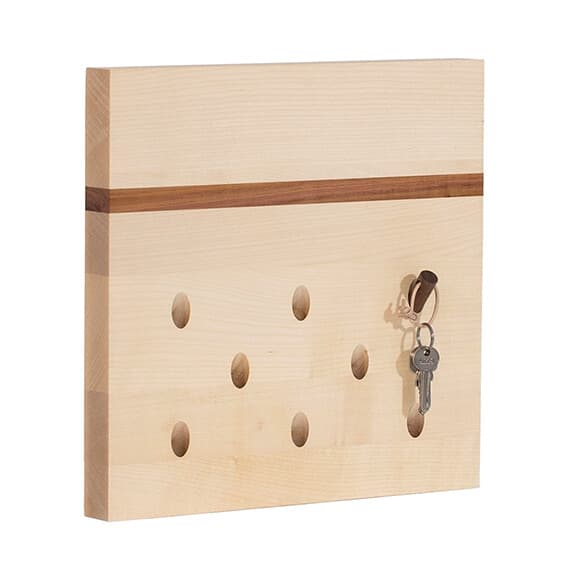 Design key board – maple & plum edition




Rosemeyer's smart design key board is an organizer and the perfect place for your keys. Exclusively manufactured and refined  key boards  give a first impression of your home at the entrance. Noble and chic due to the clear and minimalist shape in very fine wood, this  beautiful living accessory  has been reduced to the essentials. The focus is on the beauty of the material and the straightforward implementation of the functionality.




Special features of the maple & plum design key board




Despite their massive appearance, Rosemeyer's  Design Keyboards  give the impression of floating and lightness.

They have eight holes for inserting your keys. Two key rings in the form of sticks made of dark walnut wood with light vegetable-tanned leather straps for attaching the keys are included.

All  design key boards  are sealed with a special linseed oil mix, which gives the naturally beautiful grain of the wood even more expression and makes the key boards even more impressive.




Are you looking for a somewhat rustic-looking  design key board  in your hallway? Then take a look at our  Keyboard Edition of Heartwood Beech and Nut . If you need more key sticks, you will find the matching  key rings from plums here.