wooden building blocks CURVED edition ash
1171 [gm_product_gtin]
WOODEN BUILDING BLOCKS - FREE PLAY FOR FREE MINDS
Wood blocks in their natural colors to inspire and promote the creativity
wooden building blocks - the classic in every child`s room
Everyone knows and loves them: the good old wooden building blocks.
We have submitted them to a renaissance.
Rosemeyers wooden building blocks are classical toys in a new garb. From the very beginning wooden blocks are a good choice.
They do not flood the children with stimuli and give them the opportunity to choose what they want to play. It seems that the kids knew instinctively what is good for them.
But before they go to the conscious playing, is around the second birthday, it`s about grasping, feeling, biting and sucking. And what plastic toy can bring naturalness to the children like beautiful smooth sanded wood blocks or wooden figures do?
Unconscious occupation with wooden construction blocks becomes conscious playing very quickly.
Blocks for stacking and, much affected by very young children, loading and clearing. Wooden building blocks in bags, in bowls and boxes … in and out. And then start from all over again.
Also very popular with the little ones: wooden balls. Have you ever seen the fascination exerts a slowly rolling ball on a toddler?
A well-designed mix of wooden figures and blocks are the perfect companions for the little ones when they playfully discover the world. It`s the simple things that gifts kids the best playground – their own fantasy world.
Rosemeyers handmade wooden building blocks open unlimited building possibilities for young adventurers aged up from one year. Inspired by the idea of Maria Montessori we want every child to learn by playing according to his preferences and talents.
educational toys with a green soul
Rosemeyers wooden blocks set on the natural variety of the wonderful local woods. We find that no color is necessary, where nature itself wielded the paintbrush.
The wooden blocks are sealed with linseed oil mix, which is certified according to the European Toy Safety Standard. It protects, maintains and cheers the natural color and makes the wood in moderation impervious to moisture.
All block sets are delivered in natural colored GOTS certified cotton bag.
30 wooden building blocks in biconcave stature
0.79 x 1.97 inch (5 cm x 2 cm)
treated with a lineseed oil mix – physiologically harmless
handsanded
spent in a GOTS certificated cotton bag
designed and manufactured in Germany
38.00 $
[gm_product_shipping_info][gm_product_tax_info]
[gm_product_delivery_time] [gm_extra_costs_non_eu]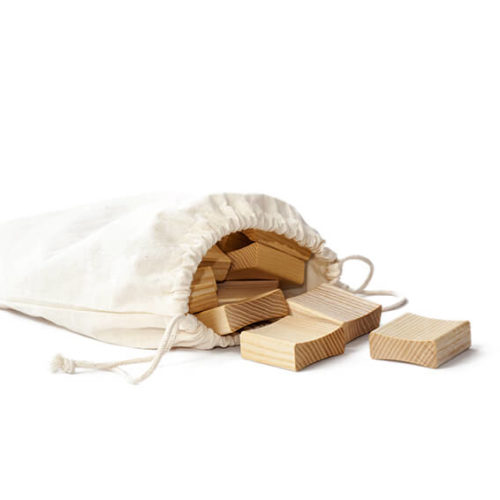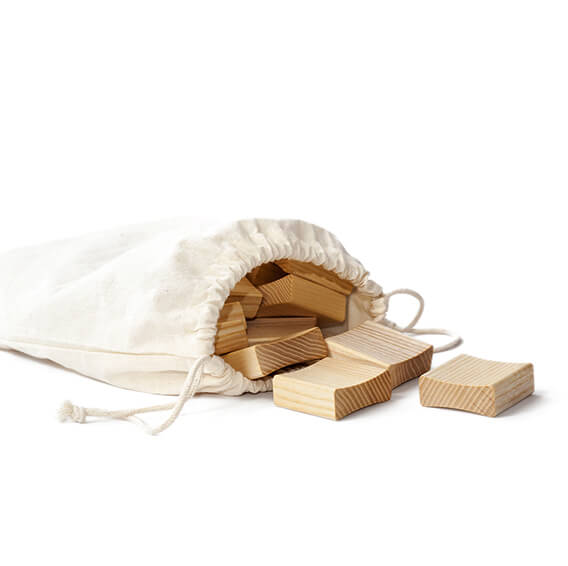 wooden building blocks CURVED Edition Ash




Statically speaking, wooden blocks in the form of a biconcave lens offer completely new possibilities. Slight interlocking can also make crooked structures stable. The slightly velvety surfaces due to the oil contribute to a better hold.




Children expand and refine their dexterity, especially when building towers and rows or more sophisticated, interlocking structures. The required fine motor skills prevent rough and fast movements. The children learn that building works best in peace and with perseverance. They test themselves in patient and careful work. They understand the special properties of a building block and its different construction options. Building and constructing with building blocks stimulates the imagination and promotes creativity, precisely because children can experience that they can freely choose without any specifications.




Inspired by the Montessori concept, the children are encouraged to try out and implement their own ideas.




Would you like to combine the curved ash wood blocks with other woods and block shapes? Then take a look at our wooden building blocks set by Berlin builders.